Leica Q2 leather case video review
The overall appearance of the Leica Q2 is derived from the original Leica Q series. Therefore, the design of the Leica Q2 half case is adjusted according to the original blueprint.
Great holding comfort
A raised ergonomic grip in front of the leather case is also tailor made to increase the stability of control and the sense of retro leather.
In particular, the ergonomic grip part is tested through 5 different materials. If it is too thick, it affects the smoothness of the leather. If it is too thin, it cannot maintain the stability of the control.
You can feel the most natural placement position of the finger is also considered with the inclination of the grip. All of the above have been considered.
Classic design with protection
For the cashew-type buttons on both sides of the camera case, an ordinary curved button does not satisfy us. Slightly longer button which is shaped like a cashew shape creates a beautiful retro line.
We believe that the modification of curved lines can make a small part of the ordinary become extraordinary. A closer look at these parts will make it easier to see the effects brought out by this well considered design. I hope you will also like it.

Battery Access
A camera is fitted with many different slots such as for battery.  You should think of your habit of using the camera wheather you need to chage the battery often or not. If you are, it is suggested buying a camera case with an opening section at the battery case.

 "360" Degree full body protection
Consideration for choosing the right Leica Q2 half case is to check whether it can provide 360 degree full body protection. Apart from basic half case, lens cover is another essential consideration.The function of the lens cover is to provide all round protection to the lens so that user can put the camera in the bags at ease.

Must have accessories for Leica Q2
As a photographer with style and standard, we want to find a camera case with other as well as other supporting accessoires ,
Leather pouch for extra batteries :
We have two variety sizes of leather pouches for you to keep the extra batteries and SD card then secure it on our leather strap. A larger one is called Classic pouch VF4, and the other smaller size is simply called small pouch

Lens cap leather :
Worrying on where to keep your lens cap ? Our lens cap leather will help. Choose the one with diameter 5cm suit your leica lens cap.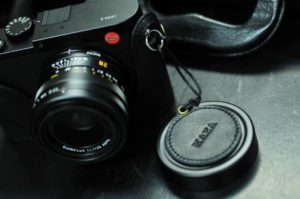 Please click here for the video review of Leica Q2 case 
Visit our store to shop the Leica Q2 leather case set